Not gonna happen? So still waiting on the exam date. So... yeah. Since I don't have much to do I'll just write about my practice exams. Oh one thing. The clocks on the computer are always out of sync. IPCop can work as a time server so I'm going to try to get that working.
And today I decided against it since it seems my computer is the only one out of sync for some reason. Gonna fix that and if the need arises I can use IPCop for synced time.
This week hasn't actually been very productive. I've been just reviewing the book since the SSO isn't moving forward, yet. Waiting on the exam date and that's it basically. More review of the book next week. How's about a network related comic
for filler
.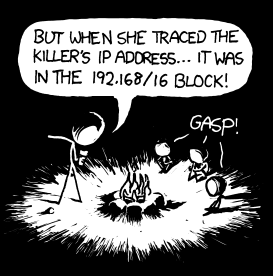 You'd better have laughed, otherwise I don't know what you're doing here.